Vivint Doorbell Camera features
The Vivint Doorbell Camera, unlike other cameras on the market, has high-quality features. Even though it only comes in one color—silver—it is sleek and unassuming. Best of all, it is part of Vivint's smart home security system which offers security, home automation, and professional 24/7 monitoring. The system is compatible with Amazon's Alexa, as well as Google Home, and doesn't require a 5-year contract if you purchase the equipment up front.
The Vivint Doorbell Camera features are compatible with the Vivint Smart Hub™, which comes with your security system package. Here's what you can expect from the Vivint Doorbell Camera:
Notifications—Through the Vivint Smart Home app, the Smart Hub™ panel, and the Vivint Ping Camera, you receive a notification with doorbell chimes every time someone approaches your front door.
Smart lock integration—With this feature, you can unlock and lock your door for visitors and deliveries. You can also open and close your garage door.
Zoom-in features—The video feed allows pinch-to-zoom in order to get a closer look.
Clips of your camera history—This is one of our favorite features. Vivint keeps track of any activity occurring at your door. Should anyone attempt to break in or approach your door and turn away, you'll have a record of this.
180-degree HD lens—See both right in front of the door and the entire front porch with this wide-angle camera lens.
Day and night vision—When you're in bed or away from home, you want to be able to see any visitors or strangers who come to your door after the sun goes down. This camera includes true night vision.
Two-way talk and one-way video—No matter where you are, you can see who is at your door. If you want, you can talk in real-time with visitors through your smartphone with the built-in speaker and microphone.
High-dynamic range image sensor—With this camera, you won't get any blurry images of your front porch. The Vivint Doorbell Camera provides a clear view.
Protection plan—If you have a Vivint service plan, you will get a free replacement for a defective doorbell camera.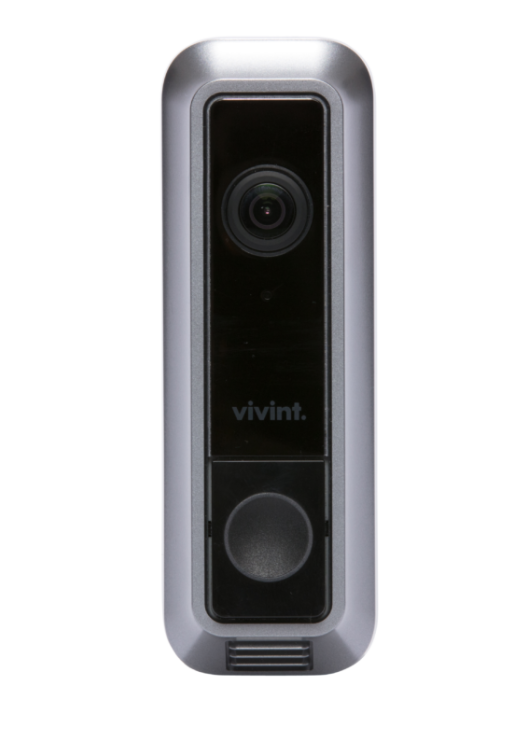 Disclosure: This post may contain affiliate links, which means we may receive a commission if you click a link and purchase something that we have recommended. Please check out our disclosure policy for more details. Thank you for your support!
Vivint Doorbell Camera specs:
Size: 4.45" height x 1.50" width x 1.06" diameter
Weight: 3.8 oz
Power usage: 12-24VAC or DC, 1.0A min.
Video resolution: 720p HD
Camera lens: 1.3-megapixel sensor
How does the Vivint Doorbell Camera two-way talk work?
When your Vivint Doorbell Camera is set up to your panel and app, you can be sure that if anybody arrives at your door front, you will be notified. When the app is downloaded and you're logged on, here's what you can expect:
As soon as someone presses the doorbell, you will receive a push notification to your phone through the app.
You can view the video.
Click the speaker to talk with the visitor. The microphone will turn black when it's ready to use. Click when you're ready to talk and click again when you're done speaking. This works the same way on the panel.
Talking through the doorbell camera without receiving a notification is also available.
The Vivint Doorbell Camera is easy to manage and use, but we recommend testing it out as soon it's set up, so you know how to operate it when someone arrives. When the professional comes to install it, make sure to ask them your questions.
If you are interested in purchasing click below or HERE to check the current price online:
This is how we tallied up this doorbell
Design - 9.7
Features - 9.4
Support - 9.2
Stability - 9.2
9.4
Awesome!
The Vivint Doorbell Camera is very outstanding and will definitely keep the intruders out with its motion detection as well as seeing who is at your door in real time