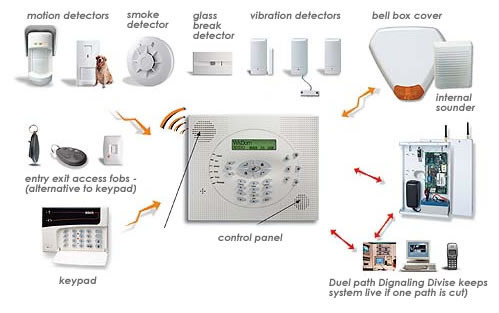 Burglary Alarm Systems
To detect if an unwanted burglar comes visit your home or office after hours or on weekends, you probably want a burglary system set up. These systems been around for a long time and normally tied into a land line phone system which would call out to a monitoring station which then would call you.
Nowadays, monitoring of a alarm system can be wireless or through a cellular system which is more secure in case someone wants to cut your outside phone line. Burglar alarm systems typically operate on a simple principle: They get activated with a code or card and from then on every time someone comes through the door and does not de-activate the alarm in time sets off a large scale alarm. The system consists of below:
– Glass Break Sensor
Glass break sensors alert you when someone has broken in through a window. They are either wireless or wired and tied to your panel.
– Motion Sensor
These are an essential part of any home security system. They have a wide variety of uses: turning on indoor and outdoor lights, activating cameras, setting off alarms, and more. For this reason, they are often incorporated into other home alarm system equipment.
-Door Alarm
With a dizzying array of door alarms available in the market, it can be highly challenging to choose one that suits your security needs. In this article, we've broken down the various types of door alarms, and explained how each type can best serve a specific security need. We've also included the latest features of door alarms so you are most up to date with the developments in this area.
-Contact Sensor
These can detect when the door or window they are attached to opens. These devices use two sensors: one on the door or window, and one on the frame. When the door is closed, the two sensors form a closed circuit. When the door is opened, the circuit breaks, triggering a burglar alarm or text alert.
-Yard Signs and Window Stickers
One burglar alarm part that might be easily overlooked is the signage that comes with it. You might not think these are all that important, but the presence of these signs and window stickers can deter would-be burglars from entering a home. Make sure to display your signs prominently!
-Smoke Detectors
Most homes have smoke detectors installed, but if you need to install your own, you can get one as part of a comprehensive home security system. If you're looking to upgrade, there are also smart smoke detectors that speak alerts out loud, letting you know what room the smoke is coming from.