Analog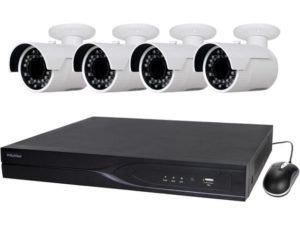 Analog cameras have been around the longest and one of the first type of cameras used in the business industry. In a traditional CCTV (closed circuit television) system these types of cameras were the standard. They transfer the video signals in analog form (electrical signals), usually using RG59 coaxial cables for the cabling, and have the videos recorded by a DVR (Digital Video Recorder). Each single camera is directly connected to the DVR and powered by a power supply. The DVR converts the analog signal to digital, compresses it, and then stores it on a hard drive for later retrieval. Most DVR's contain intelligent software to handle such things as scheduling, motion detection, and digital zoom. You will need a monitor to view the live video feed and to playback footage in case an incident happened. Today's analog surveillance system gives users the ability to view the live feed and playback though a mobile device and PC while away from the business.
In regards to the clarity of resolution, analog cameras do not offer the best compared to newer IP systems. But if you want to go the analog route choose by the number of TVL (tv lines) in which the higher the number (400-1000) the better when measuring resolution. While these analog systems are the most inexpensive they do not offer the best in video resolution compared to the newer IP or HD over coax technology which I will go into later.
FEATURES: PTZ (pan tilt zoom), limited night vision, software embed to send alarm, motion detection
PROS: Reliable connection, best frame rate, no wireless signal interference, the cheaper of the systems
CONS: Not the best in clarity compared to HD
COST: $45 per camera to $299 for a 4 camera kit
WI-Fi Cameras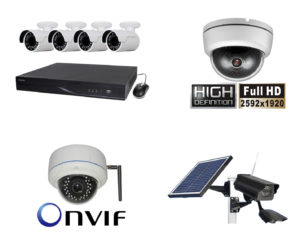 Using Wi-Fi wireless cameras are another way that you can protect your business. They come in dome or bullet styles. They do not need a cable run from the camera to the DVR but need a local power source. Some but not all Wi-Fi cameras can utilize POE (power over Ethernet) technology and can be powered through an ethernet wire then on the other end to a POE enabled switch. Also, some cameras do have batteries, of course, making them truly wireless. But battery life is still an issue for professional or even semi-professional applications. Wi-Fi cameras broadcast in either the 2.4 GHz or 5.8 GHz ranges. 900 MHz and 1.2 GHz were common at one time, but have both been nearly completely phased out of use. Each device talks to the router, which can send information back and forth to other networked devices as well as to and from the internet. Typically, routers are not included with these cameras and must be purchased separately.
Just like newer analog camera systems the video feed can be remotely accessed from outside of the business. For recording the footage some wireless cameras come with a slot to insert an SD card which is great because criminals have no way of taking the device with the camera way in the air. On or off premises external recording set up can be more complicated because there is usually no physical DVR unit to record the live feed so users may require a PC or external hard drive to capture the footage.
FEATURES: PTZ (pan tilt zoom), night vision, SD card slot for storage, motion detection
PROS: No need for wires (except for the local power source)
CONS: Not truly closed circuit, interference with other wireless devices, lag in frame rate
COST: $89 per camera with PTZ features to $599 for a 4 camera kit
Network and IP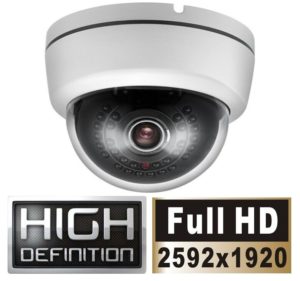 In the IP world, each network camera captures an analog image but immediately converts it to digital inside the camera. Some digital processing can happen right at the camera, such as compression and motion detection. The digital video stream is then broadcast over the local area network (LAN) using Ethernet (CAT5 or CAT6) cable. The resolution ends up being from 1MP up to 5MP which is common in the market today. Power is supplied to the cameras through the ethernet cable via Power-Over-Ethernet (POE) adapters built into the cameras and at the (POE enabled) switch or NVR (Network Video Recorder). As with all network devices, some set-up needs to be done for each network camera to set up its IP address and other identifying attributes.
A Network Video Recorder (NVR) performs the same function as its DVR cousin in the analog world. It captures each camera's signal, compresses, and records it. The main difference is that the video feeds are digital (and much higher resolution) and not analog. Software built into the NVR provides features such as intelligent search and zoom, etc. The NVR combines the video streams from the cameras and handles the broadcast over the LAN and internet for local and remote viewing.
FEATURES: PTZ (pan tilt zoom), intelligent software for motion and alarm, digital and optical zoom
PROS: The best resolution available; more intelligent features
CONS: Can slow down network performance, rewiring if older analog system in place
COST: $109 per camera to $899 for a 4 camera kit
Cellular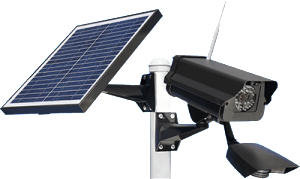 For businesses that need cameras where there is no existing internet there are cellular cameras. The total system utilizes a cellular transmitter and connects to a cellular network to send video. This is similar to a hotspot but for cameras. In function, they can be very similar to Wi-Fi cameras. As far as powering the camera the cellular type will need a high voltage connection or a solar panel which in the common solution. This is the newest of the wireless technologies, and reliability can vary widely, largely based on network conditions. Some businesses that use cellular cameras are construction sites, food trucks, law enforcement or sites where they are out in the country where no internet is available.
These also tend to be very costly. Not only is equipment expensive, but it also requires a cellular data plan in order to transmit video. These costs can vary by cellular carrier, and a lack of cellular coverage can render the devices inoperable. As costs drop, expect to see this type of camera become more and more popular.
FEATURES: PTZ (pan tilt zoom), night vision, SD card slot for storage, motion detection
PROS: No need for internet just pay as you go 3G/4G plan, Flexibility in placement
CONS: Costly, video latency, low frame rate
COST: $499 per camera to $3999 for a whole setup plus est. $60/month for 4G service
HD over Coax (HDCVI)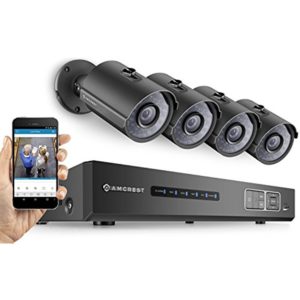 If you want a security camera system that is the most flexible when it comes to wiring and clarity then HD over Coax or HDCVI (high definition composite video interface) if your answer. This technology use coaxial cable to transmit a high resolution picture. HDCVI allows for long distance HD transmission up to 1600ft. HDCVI technology is a cost effective solution that allows for a more complex installation, based on existing RG-59 coaxial cable, HDCVI Technology can transmit HD over analog in 1080p up to 300m and 720p up to 500m.
Analog systems based on coaxial cabling still dominate today's video surveillance market, however the demand for high definition is increasing. The need to change out the cabling for an HD system can result in higher operational costs for businesses. HDCVI technology is here to bridge the gap and give a high definition solution to those with an analog system already in place. No new cabling is required when upgrading existing analog systems to high definition when you are using HDCVI Technology.
FEATURES: PTZ (pan tilt zoom), night vision, software embed to send alarm, motion detection
PROS: Can use existing analog wiring, better resolution than analog
CONS: A little more costly than analog but worth it
COST: $69 per camera with HD features to $499 for a 4 camera kit
Hopefully these tips on placing your cameras helped you understand the importance of what the camera can see when they are at a certain distance.