Disclosure: This post may contain affiliate links, which means we may receive a commission if you click a link and purchase something that we have recommended. Please check out our disclosure policy for more details. Thank you for your support!
AVG is known around for having a free program version for scanning for today's viruses and malware that can be downloaded from their website. It is a must nowadays to have some type of virus protection computer program on your PC or laptop to protect you from the everyday vulnerabilities that come through email, websites, thumb drive infected files and online videos.
Understand that we keep all our credit card information, banking information, purchases, travel plans and other sensitive information online that, if someone were to infect your computer, you would be in some big trouble.
So to prevent those really bad situations we will look at AVG's flagship program called AVG Ultimate.
Lets look at some of the great features of AVG Ultimate below:
– Unlimited installs
Do you or your family have more than one computer? I am assuming the answer to that is a "yes". If so, by purchasing this software once, you are able to install it on however many personal devices that you have. No more buying multiple of the same protect to make sure you are covered. One purchase does the trick.
– Tune-up
If it was not enough that they are protecting your computer, they will also give you computer a tune-up. Similar to dropping your car off at the mechanic for a tune-up, this software will clean up any junk data, improve your battery life, and identify small issues that could potentially grow into major ones and fix them. It really is like getting new tires, brakes, oil changed, belts changed on your computer all while getting a car wash.
-Android compatible
A lot of people are wondering if the "unlimited installs" that I mentioned above includes mobile protection. The answer is a "yes". If you have an android or tablet, they have made an app that will extent the protection to your mobile device. We all know how much we cherish our phones so this is such a great add-on that cannot be overlooked when comparing this to competitors.
-Automatic updates
No more buying additional updates or reinstalling the latest version of a product. AVG automatically updates on your computer so that you have the latest model as soon as it comes out.
-Camera trap
This is probably one of our favorite features of AVG Ultimate. Have you ever gotten something stolen and wondered if you could just take a picture of the thief? Well, now you can. If your phone is ever stolen, this benefit will allow you to take a picture from your phone so that you can capture the thief's face, surroundings, or whatever other data you might want to collect.
-App lock
With technology being so ingrained into our phone, we now have banking apps and other highly important and sensitive information that is contained on our phones. If your phone gets taken, you need a way to make sure that the person does not have access to all that data. This feature allows you to lock down certain apps on your phone so that the person cannot access them.
-Anti-theft
If you happen to misplace or get your computer stolen, there is a way to lock it down. Similar to the app lock feature mentioned above, you are able to lock your computer and even wipe it clean of all the data if you believe that it is in a real threat. This can all be done remotely, which will soothe your conscious whenever you misplace it.
-Cloud integration
Nowadays, everything in (or should be) in the cloud. The cloud helps back up your data so that everything is not only on one computer. This helps prevent a major problem if one computer gets lost and all your important files were on there.
AVG is constantly improving their technology and they have a passion to serve their customer with the best products that they can design. They want to provide the best product to you for the most cost efficient price.
What Is The Price For AVG Ultimate?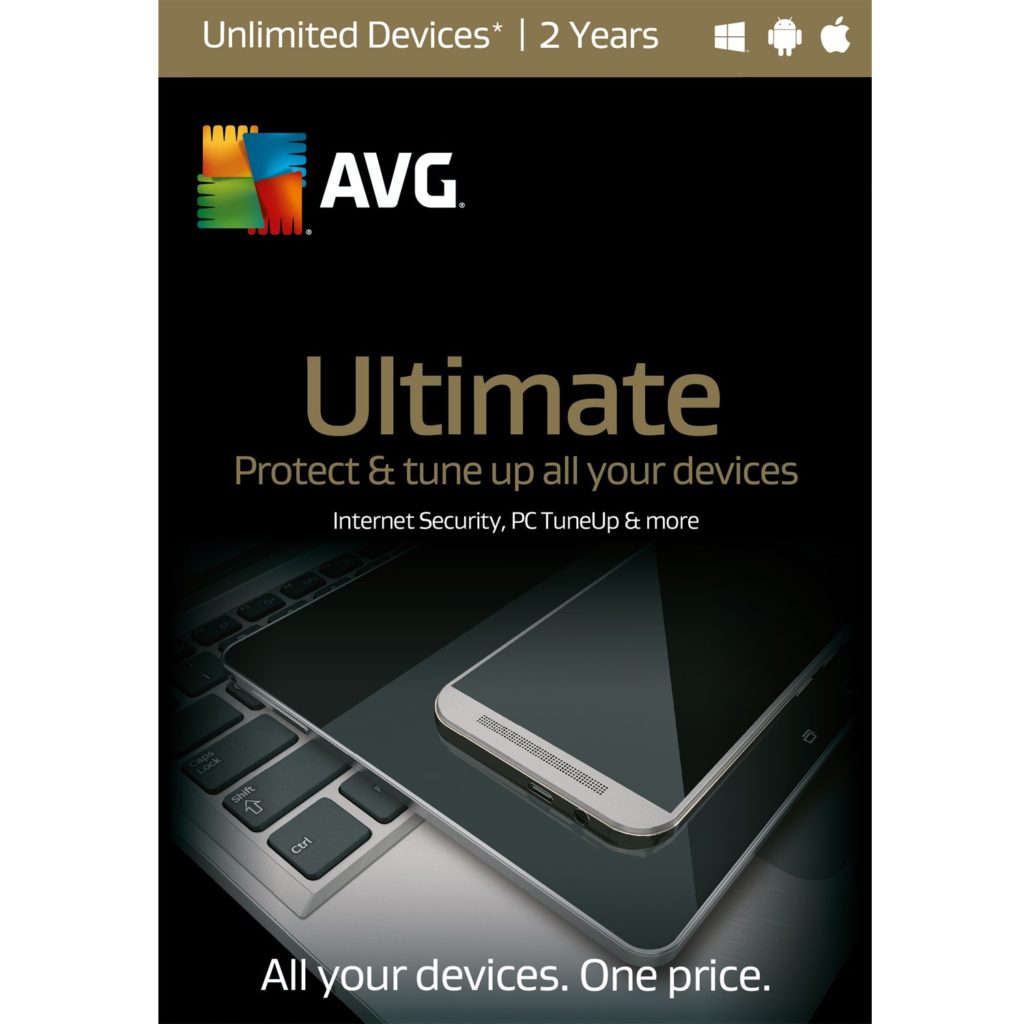 After reading this review you know that this product has a lot of bell and whistle features. The price is very reasonable for AVG Ultimate. You can check out below if you are interested in purchasing them at their current price:
AVG Ultimate 2019, Unlimited Users 2 Year [Key Code]
AVG Ultimate 2017, Unlimited Devices, 2 Years